Merk kinder joggingpakken
Bent u op zoek naar exclusieve en sportieve kinder joggingpakken voor uw zoon of dochter? Dan vindt u ongetwijfeld uw favoriete kinder joggingpak in onze brede collectie.
Wij bieden alle merk joggingpakken voor jongens en meisjes aan die zich in de kledingmarkt onderscheiden van de middenmoot. Kwaliteitsmerken dus, zeer modieus, up-to-date en tegen scherpe prijzen! De maten in onze collectie variëren van 92 tot 176.
Als u een hoogwaardig kinder joggingpak zoekt van een topmerk, bent u bij Coccinelle aan het juiste adres. In onze collectie vindt u joggingpakken voor jongens en meisjes van gerenommeerde merken als Replay, Guess, Boss, Philip plein, Tommy Hilfiger, Miss Grant, Diesel en Moschino. Stuk voor stuk stijlvolle, elegante merken die altijd inspelen op de meest recente modetrends.
Onze jongens en meisjes joggingpakken zijn niet alleen van de beste merken, maar ook gemaakt van de meest comfortabele en sterke stofsoorten die in de modesector verkrijgbaar zijn. Zo weet u zeker dat u een joggingpak voor uw kind koopt dat lekker zit en ook nog eens lang meegaat. Bekijk onze complete collectie kinder joggingpakken in onze webshop en bestel meteen een leuk en modieus joggingpak van Guess, Diesel, Tommy Hilfiger, Boss of Burberry. En laat uw kind natuurlijk even meekijken, want als u een kinder joggingpak koopt moet uw dochter of zoon er wel in lopen en het daarom natuurlijk helemaal eens zijn met uw keuze. Want keuze is er genoeg bij Coccinelle en daarom soms best moeilijk: al onze kinder joggingpakken zijn namelijk populair en gewild.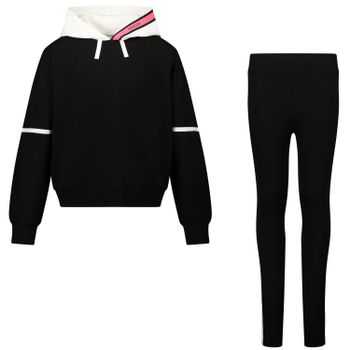 Moncler

Meisjes kinder joggingpak
250

,-